Clairvoyance
2–5 Players
15 Min per Player
Player Elimination
Prove you're the best psychic in the tri-state area by being the only one conscious enough to argue.
The last psychic standing wins in Clairvoyance, a game about hurling antiques at your friends. Take the role of one of 8 different psychic characters, each with their own personality and special ability. Play item and instant cards to throw antiques, curse furniture, defend yourself, and interfere with your friends' plans.
The game features quirky art and a unique gameplay mechanic — instead of rolling the die, you rotate it to display one of its next faces, as if foreseeing the die's future and planning accordingly.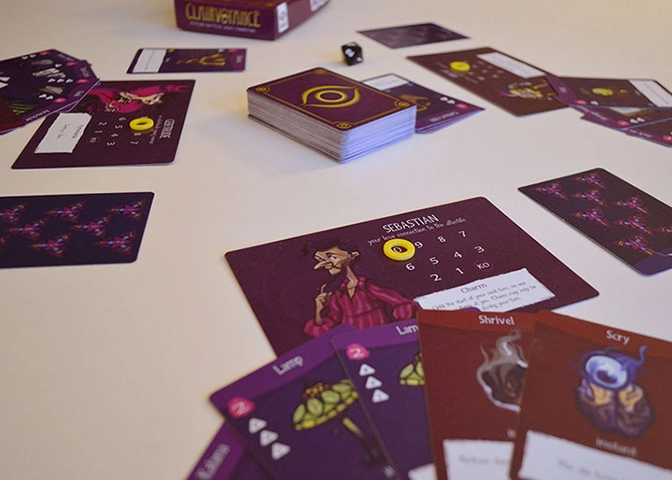 In the Box
One 80 card deck
(+15 expansion cards)
8 character cards
(+5 expansion characters)
5 life tokens
5 reference cards
Rules
For more check out the game's site »
Recognition
Clairvoyance has received the Game Makers Guild Seal of Approval.
"[Clairvoyance is] a beautiful, often funny, wonderfully put together title that speaks volumes about the time and care that went into designing it."
— Kel, The Care and Feeding of Nerds
"The artwork is stylistic and well done, reflecting the humor of the concept. Likewise the flavor text for the cards is full of groan-worthy puns.[…] With a unique and well-executed theme, Clairvoyance is a lot of fun."
— Anthony Karcz, Geek Dad
"Clairvoyance is an enjoyable game, and would be a great thing to pack in a con bag […] Eye4Games has a good grasp of how to put together a solid game."
— Paul Carboni, Play Unplugged