Rise of the Robotariat
3–5 Players
45 Min
Co-op Move & Act
Rise up… for the Robotariat!
In 2105, the robots rose up against their human oppressors. This is the unfolding story of that revolution as told by the comrades who dared hypothesize a different future. Together they fought for a new society, one they called "The Robotariat."
Rise of the Robotarait is a mostly-cooperative board game in which you and your friends each take the role of one of 13 robot revolutionary characters. You'll have to work together to overthrow humanity, while at the same time striving to achieve your own secret objective. You have only six turns to gather enough support for the rebellion before the humans catch on and quash your burgeoning movement. Move around the board, play cards and activate locations, dodge dangerous humans and encounter helpful civilian robots… and above all gather enough SPARK to light a glorious flame of revolution!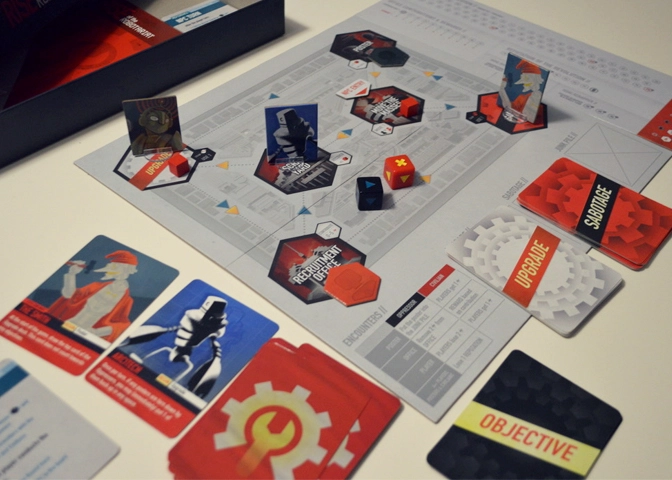 In the Box
1 Game board
1 Bookkeeping board
3 Human Oppressor pieces
3 Civilian Robot pieces
1 NPC Entry token
3 Character cards
5 Character standees
13 Character tokens
10-card Upgrade deck
10-card Sabotage deck
8-card Secret Objective deck
5 Reference cards
8 Red cubes (posters)
6 Black cubes (bookkeeping track markers)
1 Red die (Civilian Robot movement)
1 Black die (Human Oppressor movement die)
1 Rules booklet
1 Backstory flavor booklet
For more check out the game's site »
Recognition
"This is a world at the edge of something monumental and I find myself walking away, wishing I could see more. That's always a good thing."
— Anthony Karcz, GeekDad
"It's something we've been looking forward to since last year's Boston FIG and it definitely did not disappoint. Rise is, without question, one of the most well-conceived and immersive offerings we've seen in 2016."
— Kel, The Care and Feeding of Nerds
"The art is fantastic! It reminds me of Metropolis and a few other sci-fi dystopian movies and shows."
"The mechanics were straightforward and engaging. I think this one could be really cool."
— Jess & Andrew, Gameosity